Ghuchhar Sar Expedition
Ghuchhar Sar Expedition 2020-21
Ghuchhar Sar Peak registration is open for all seasons. We are offering Ghuchhar Sar Peak for mountaineers, climbers and alpinists from around the world.
Including Ghuchhar Sar Peak, we also offer other 6,000 to 6,500m peaks and few of them are given in the table below.
Ghuchhar Sar Expedition – Cost – USD 2,395
Our estimated costs are given below. The minimum cost of Ghuchhar Sar Peak expedition starts from USD 2,390 per person.
Highlights – Ghuchhar Sar Expedition
Competitive prices for a six thousander peak in the wild mountains of Pakistan
Field office and permanent staff for logistical arrangements to and from the mountain
Itinerary based on our mountain guide's indigenous knowledge and vast experience
Spectacular mountain vistas during the expedition
Apricot Tours is a fully licensed native adventure company
Fixed departures are normally guided by our Pakistani High Altitude Climber(s) (HAC)
Private groups are always one of our top priorities
We cater to both guided expeditions and non-guided (alpine style) climbing
We cater to both "base camp services" and "full board services"
The following High Altitude Support available at extra cost
a. Personal Pakistani High Altitude Porter (HAP) - will carry 20 kg of personal equipment between camps
Ghuchhar Sar Expedition – Holiday Information
Lodging at base camp (single supplement)
Full base camp with dinning tent, bathroom, showers & solar charge
All internal/domestic transport
All domestic flights
50kgs (110 lbs) personal baggage
All meals during trek and at base camp (B,L,D)
Group emergency equipment/satellite phone service with fixed calling charge
Two nights stay in Islamabad hotel on arrival and two on return (bed & breakfast only)
Staff insurance (guide, cook, kitchen staff, assistant(s) & porters etc)
Experienced cook from Pakistan
Kitchen staff
Porters for all expedition supplies
Solar power at base camp
Electricity generator (backup for high voltage devices)
Why should you register very early?
1. Team building: It takes time to formulate a good team. We go through all incoming applications and formulate the best team of mountaineers (on the basis of experience). Although our vet process is not very strict, our top priority is always the safety of fellow climbers. We will not accept all applications only to maximize the number of the mountaineers.
2. Logistics: Our climbing adventures involve a lot of logistics. This includes reserving/assigning high altitude porters, guides and other staff in advance. It also involves a lot of procurement (equipment, food etc). This is not possible during the last hours. During winters expeditions, most of the supplies are transported to base camps two to three months prior to the expedition because winters in the mountains of Pakistan are very harsh and it becomes almost impossible to for porters to walk through the trail with heavy supplies.
3. Permit: Pakistani government tourism laws require tour operators to submit applications for climbing (along with all documents e.g. passport copies, photos, CVs etc) at least 70 days prior to arrival in Pakistan.
4.Domestic Flights: We might not be able to get you on the domestic flight to Skardu if you do not pay your deposit on time. Domestic flight seats are sold very fast way ahead of time because there are only two flights to Skardu during peak season. This is a very serious concern.
5. Price changes: The given prices are early bird discount offers and are subject to change. There can be increases in price after January. Service providers including (but not limited) to hotels increase prices in peak-season. Early reservations cost less than peak-season (May to September). Our prices will not change once you have paid the deposit so the price when you book is the price you will pay. Register yourselves early to avoid increase in holiday prices.
6. Pay less deposit: Given below is our deposit schedule for 2020 departures.
8 months before departure (deposit: 35%)
6 months before departure (deposit: 40%)
5 months before departure (deposit: 50%)
4 months before departure (full payment)
Note: The same deposit time frames above apply to 2021-22 departures.
Refund policy
Deposit: Once paid, the deposit is non-refundable as it will be spent on making in-country arrangements, organizing logistics, procurement of equipment (e.g. oxygen sets) and supplies (including food), hiring of staff/sherpa etc.
Balance: All balances are due 120 days prior to arrival in Pakistan unless otherwise specified. Participants whose balances are not received by the 120-day deadline as stated above, risk forfeiture of their funds and their place on the expedition. For this expedition, there are no refunds for the deposit or balance payments. This includes but is not limited to, expeditions that conclude without a summit or progress towards a summit for participants due to route conditions, weather, insufficient manpower, or any other factor outside the control of Apricot Tours. Expedition leader has the final say on the expedition conclusion and will make all the best efforts for a happy return home.
Currency
All international climbers are charged in US Dollars (USD).
Other Notes
Deposit should only be paid after filling out the registration form and confirmation/approval from Apricot Tours.
Due to the nature and heavy costs of government and operator permits, Apricot Tours must follow a precise refund policy.
Participants that choose to leave an active expedition for any reason are not entitled to any refunds
Apricot Tours highly recommends trip cancellation insurance for all expeditions
Ghuchhar Sar Expedition – Royalty Fee
The royalty fee/rates assigned by Pakistan's Tourism Ministry for climbing Ghuchhar Sar Peak in spring, summer and fall is zero/none after a discount of 100%. The details of royalty fees for three seasons are given below.
Ghuchhar Sar Royalty Fee/Rates – Spring, Summer & Fall
The royalty fee/rates assigned by the government for climbing Ghuchhar Sar Peak in winters is zero/none after a discount of 100% in winters. The details of royalty fees for winters are given below.
Ghuchhar Sar Royalty Fee/Rates – Winter
The discounts above are being offered since over a decade as part of the government policy to promote adventure tourism.
Overview – Ghuchhar Sar Expedition
Ghuchhar sar is a beautiful peak in the Hindu Kush Mountains in Khyber-Pakhtunkhwa province, Pakistan. Ghuchhar sar rises to 6,249 meters at its summit and is amongst the highest peaks in the Hindu Kush Range and one of the highest peaks located outside of Karakorum.
The Hindu Kush range is an 800 km long mountain range in the Khyber Pakhtunkhwa (used to be known as North Western Frontier) province of Pakistan. These giant mountains stretch over the Pak-Afghan border and go on to merge with Himalaya and Karakoram range up in the Northern Areas of Pakistan. It is also home to one of the most beautiful valleys in Pakistan known as Badakhshan and Chitral Valley.
Ghuchhar sar Peak Expedition is a journey through the massive Hindu Kush Mountains of Pakistan with mesmerizing views of the giant mountains, huge glaciers and beautiful mountain valleys.
Apricot Tours offers a complete package for the Ghuchhar sar Expedition and has all the requirements needed for a successful mission to the top of the summit. Furthermore, Apricot Tours also offer treks and tours to different northern locations in Pakistan such as in Hunza, Gilgit, Kalash, Shandoor, and Gojal.
The services of such a trip includes hotel booking; government permits because it is a peak higher than 7000m, domestic flights, chefs, tour guides, visa assistance, porters, camping equipment, daily food, kitchen equipment & tools etc.
---
Other Holidays
Apart from mountaineering and climbing adventures, we also offer trekking holidays. Our most popular trekking holidays are given in the table below.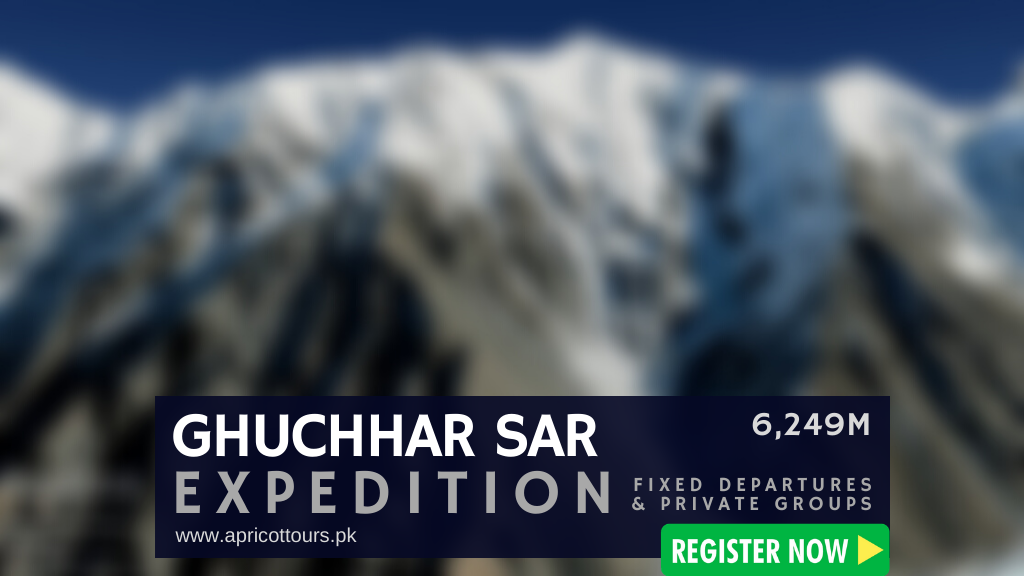 Rating





User Rating
5 based on 
 votes
Company
Apricot Tours Pakistan
Adventure
Ghuchhar Sar Expedition
Price
USD 2390
Product Availability
Available in Stock